OUR PRACTICE AREAS
OFFICE LOCATIONS
GARDEN CITY OFFICE
1205 Franklin Ave, Suite LL24 Garden City, NY 11530
Phone: 516-742-5200
Fax: 516-248-1085
Long Island Debt Collection Lawyers
Established and Reputable Litigation and Collection Attorneys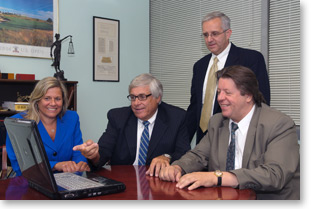 At the law office of Fleck, Fleck & Fleck, we have over 40 years experience as collection, litigation and estate planning lawyers.
Located conveniently in the heart of Garden City, New York, we provide efficient legal representation geared towards results.
We provide a 24-hour answering service for our clients and can meet with them outside of the office and on weekends per their request. We offer free consultations and are ready to fully listen to our clients' cases and determine the best legal option for them.
CV11 by ComTech Systems, Inc.
In our debt collection practice, we use an efficient and paperless system for the benefit of our clients named CV11. The CV11 program is a debt collection system that helps our clients save time and money in their debt collection cases. The system uses automated tools and Internet features to drive a seamless collection process. With this paperless tool, we can help our clients resolve and collect on their cases in a time-efficient manner.
New York Personal Injury Lawyers
Our firm has experience representing clients in personal injury cases involving motor vehicles, construction, slip and fall, railroad accidents and wrongful death cases. We also advise and consult clients in medical malpractice and legal malpractice cases, and provide efficient litigation when necessary. Our firm is fully familiar with the rules and regulations of the New York State no-fault law as it pertains to motor vehicle accidents.
Estate Planning, Wills and Trusts Lawyer for New York and Florida
We have experience representing clients that want to plan the distribution of their assets and provide for their loved ones in the future. We successfully guide our clients in drafting various wills and trusts that determine the roles of their family members, spouses and other heirs. We work hard to ensure our clients' wishes are met in these important documents for both New York and Florida residents.
Contact a Long Island, New York, Attorney Today
If you are seeking legal representation or would like more information about our legal services, contact our office today. You can reach an experienced lawyer at 516-742-5200 or online.

This communication is from a debt collector and is an attempt to collect a debt and any information obtained will be used for that purpose.
DCA License number: 2034167-DCA