OUR PRACTICE AREAS
OFFICE LOCATIONS
GARDEN CITY OFFICE
1205 Franklin Ave, Suite LL24 Garden City, NY 11530
Phone: 516-742-5200
Fax: 516-248-1085
Garden City Estate Planning Lawyers
Efficient and Aggressive Litigation and Collection Lawyers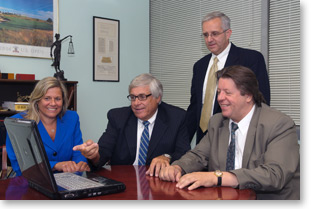 With over 40 years experience as trial attorneys for both jury and non-jury cases, the law firm of Fleck, Fleck & Fleck provides aggressive and efficient litigation and negotiation in their clients' cases. We continuously represent clients in a wide range of legal fields, including estate planning, wills, trusts and probates. But regardless of what legal field we are operating in, we work hard for the success of our clients' cases.
Garden City Estate Planning Attorneys
Estate planning, probates, wills and trusts are other fields where we work hard in to obtain the best results for our clients. We have experience helping to draft a will or trust that portrays the wishes of our clients and provides for their loved ones in the best way possible. We have experience determining our clients' goals in providing for the financial future of their loved ones. We can help our clients draft an estate plan that will put them at ease in future transactions of their assets and property with a minimal amount of estate and gift taxes due, if any.
Long Island Personal Injury Lawyers
With our experience as litigation attorneys we provide legal representation for clients that have been injured by the negligence of a third party. We have handled personal injury cases involving motor vehicle accidents, construction accidents, railroad accidents, premises liability claims, and also cases involving legal malpractice and medical malpractice.
Offices in New York and Florida
As part of our growing business we provide two locations for our clients:
1205 Franklin Ave, Suite LL24, Garden City, NY 11530
44 Cocoanut Row, Ste M209, Palm Beach, Florida 33480 By Appointment Only
Contact a Long Island, New York, Attorney Today
If you are seeking legal representation or would like more information about our legal services, contact our office today. You can reach an experienced lawyer at 516-742-5200 or online.